The holiday season may be over, but there are still a few months of winter ahead of us! We love getting outside and playing in the snow, but sometimes you need some fun winter activities to do indoors, too. We've rounded up ten of our favorite winter-inspired crafts from the blog archives – they're just perfect for a day when you want to do a seasonal activity but keep inside or if you don't happen to have snow where you live.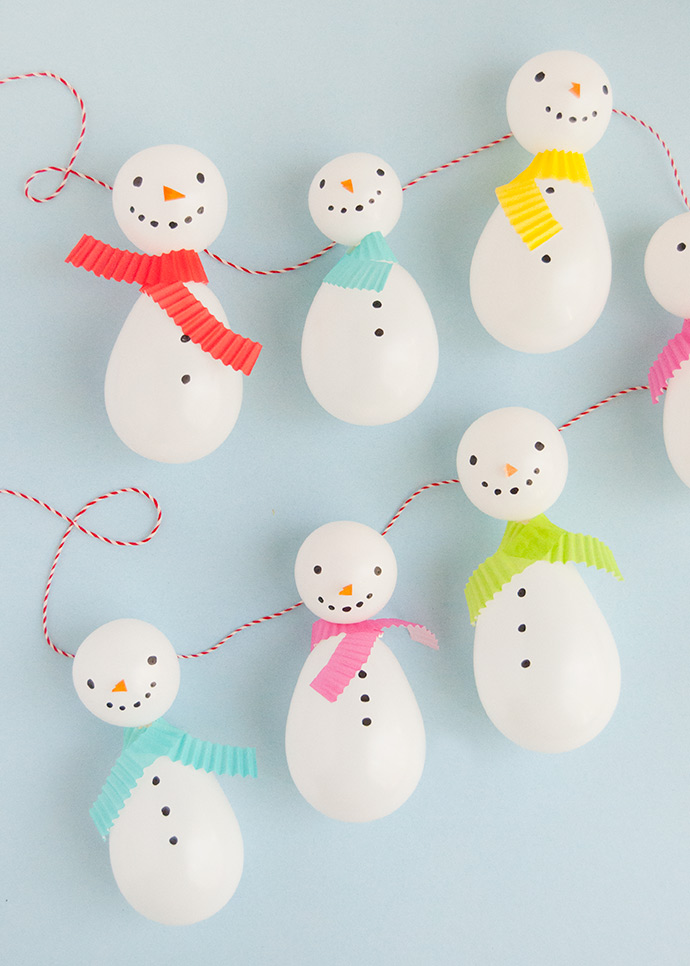 Balloon Snowman Garland
Do you want to build a snowman? Or how about a whole bunch and you don't even need to have snow on the ground? These friendly balloon snow people come together in minutes thanks to balloons and cupcake papers. Add a string on their backs and you've got an instant wintery garland!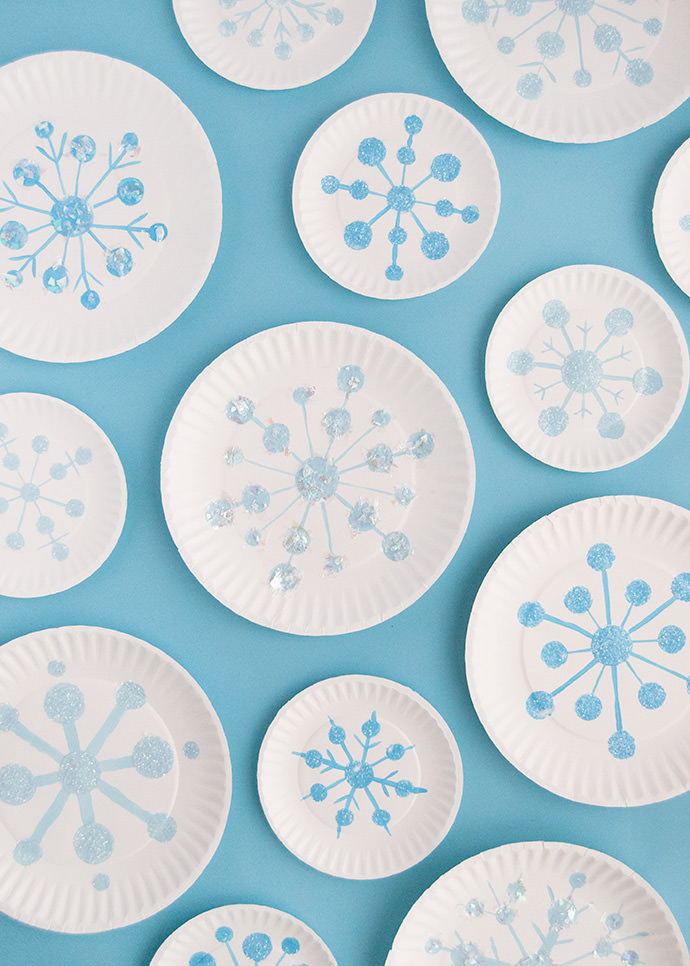 Paper Plate Snowflakes
If you're in a cold climate and find yourself stuck inside during a snowstorm, these glittery paper plate snowflakes are a great way to keep busy. They don't take long to make so you can craft a whole bunch of them in no time – tape them up on your walls for some wintery decor.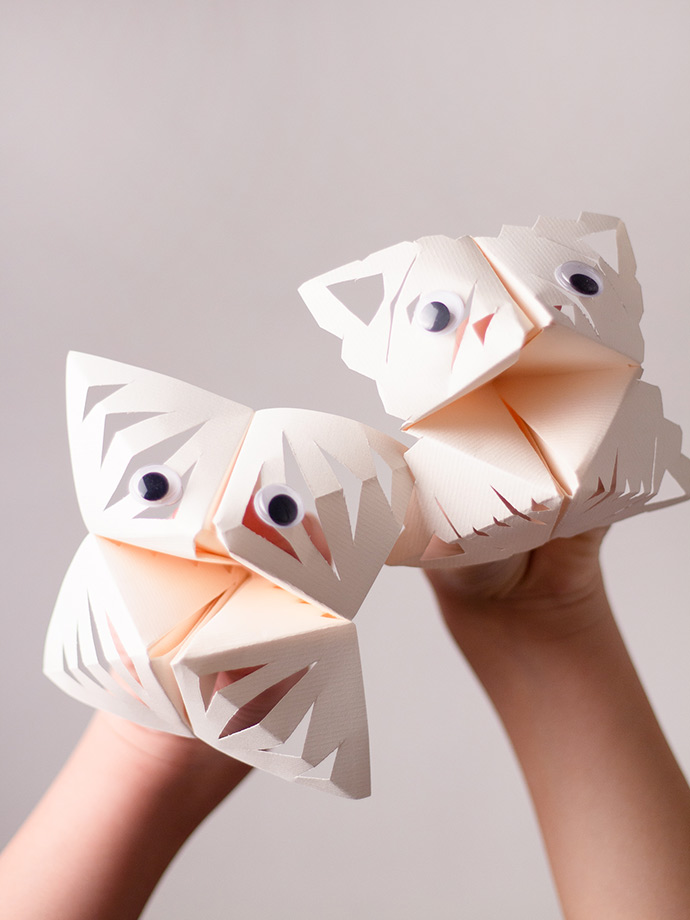 Paper Snowflake Puppets
Remember those paper fortune tellers you used to make when you were a kid? These silly puppets use that exact same folding technique! Instead of decorating the fortune-tellers with colored dots, numbers, and written fortunes though, we instead gave them a little trim with scissors and added some googly eyes to give them a whole new life as these wintery puppets.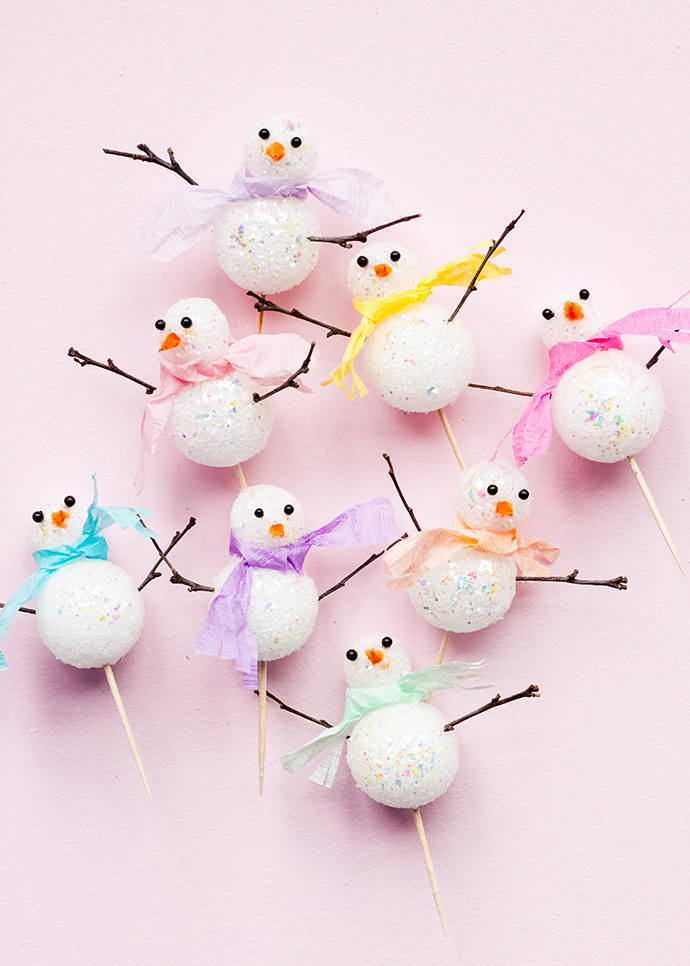 Snowman Cupcake Toppers
A snowfall doesn't truly count unless you can build a snowman, don't you think? Make these "indoor snowmen" from the comfort of your own home, drinking hot chocolate and baking cupcakes for them to sit atop!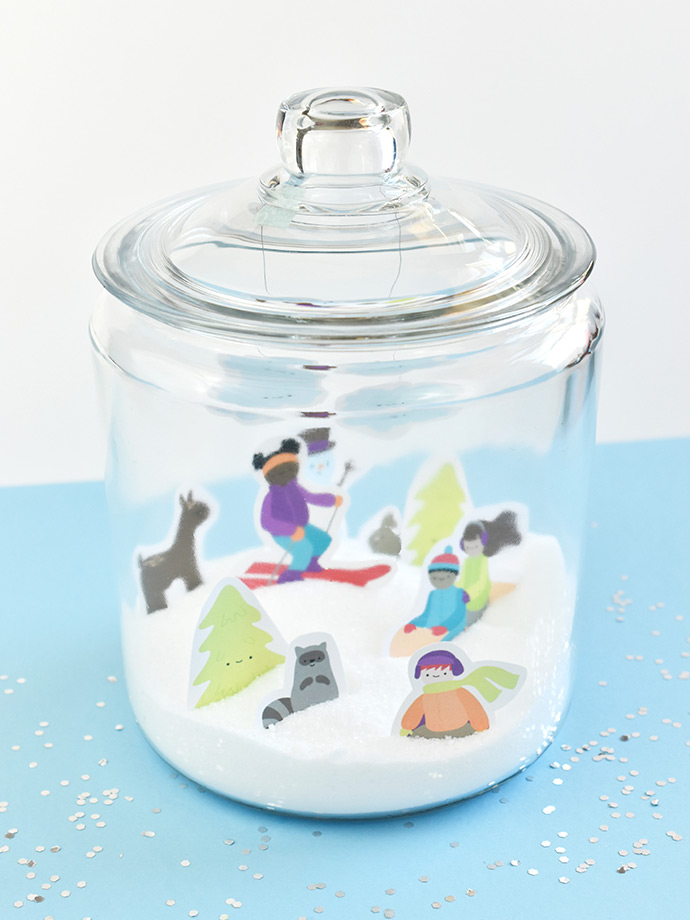 Printable Snow Scene Terrarium
How would you like to play in the snow with sleds, skis, and forest friends…without going out in the cold? You can with this snow scene terrarium filled with printable winter fun cut-outs! The snow is actually salt and if you use Epsom salt, it sparkles like snow. You can use the pieces to play and tell stories, but then you can set up your own scene to admire as long as you like.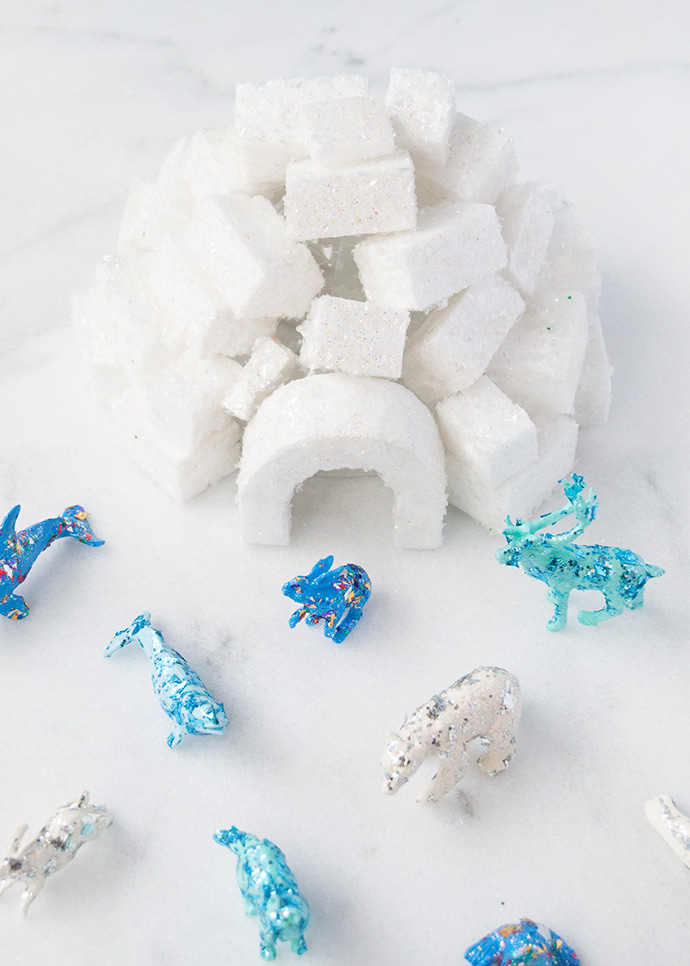 Make Your Own Glittery Arctic Playset
If you're like us, you love adding a touch of glitter to nearly everything. For this mini arctic scene, we made over animal mini figures from the craft store and of course had to make this mini igloo too using recycled styrofoam!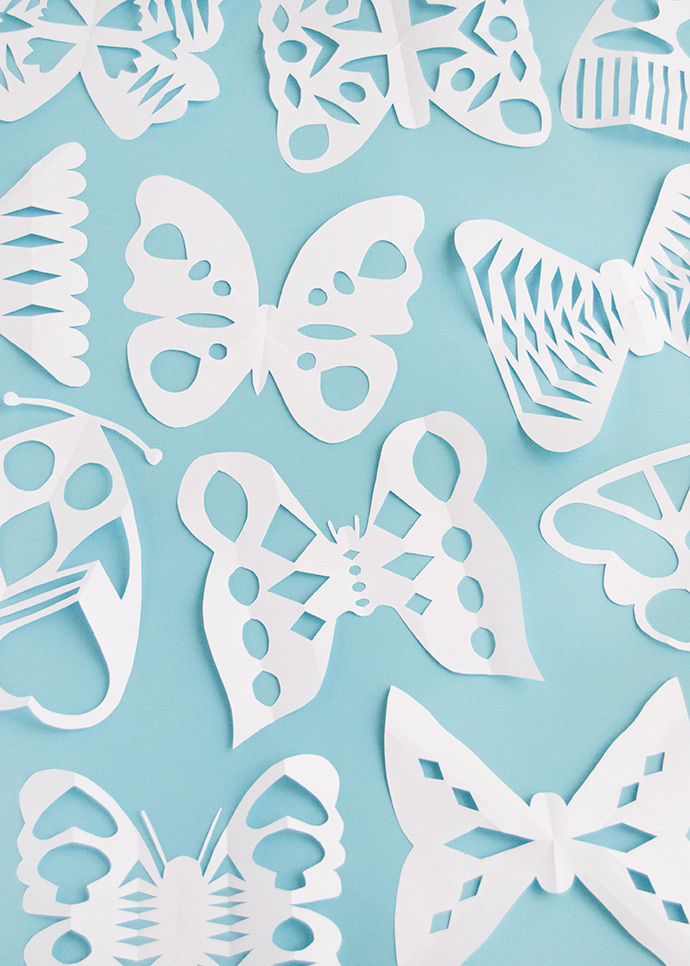 Butterfly Paper Snowflakes
Even if it isn't snowy where you live, that doesn't mean you can't make paper snowflakes! While experimenting with the process and different folding techniques, we stumbled onto a fun idea – what if we made snowflakes that look like butterflies and moths?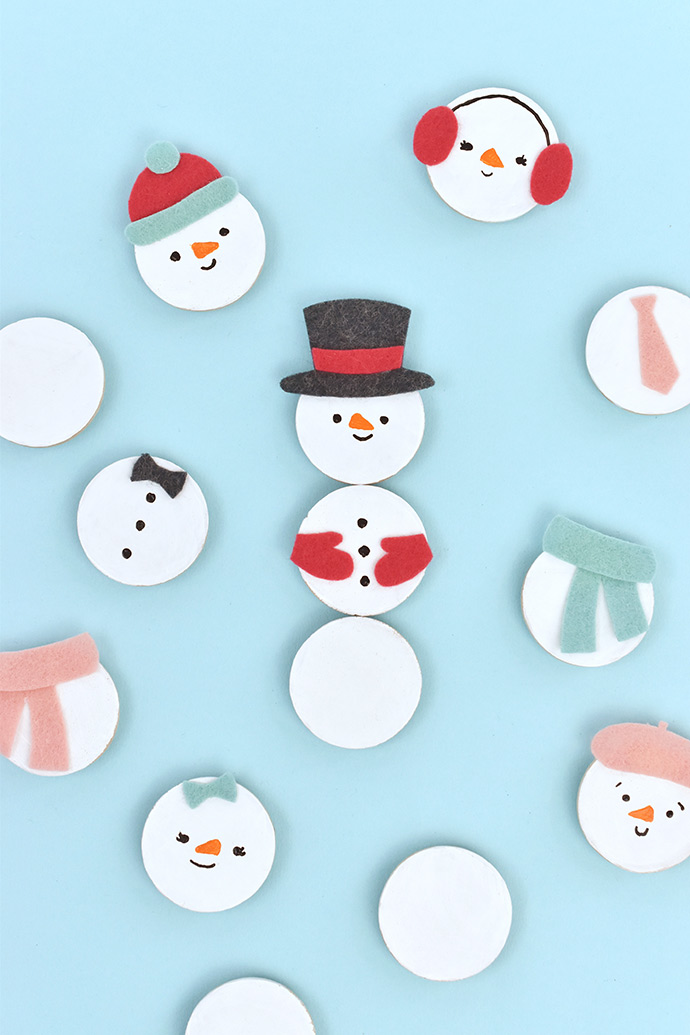 Mix 'n' Match Snowman Magnets
Build a snowman (or a snow lady or snow kid) without ever stepping out into the snow! These mix and match magnets are fun to make and even more fun to play with. Create one snow person, then change out a piece or two for a whole new look!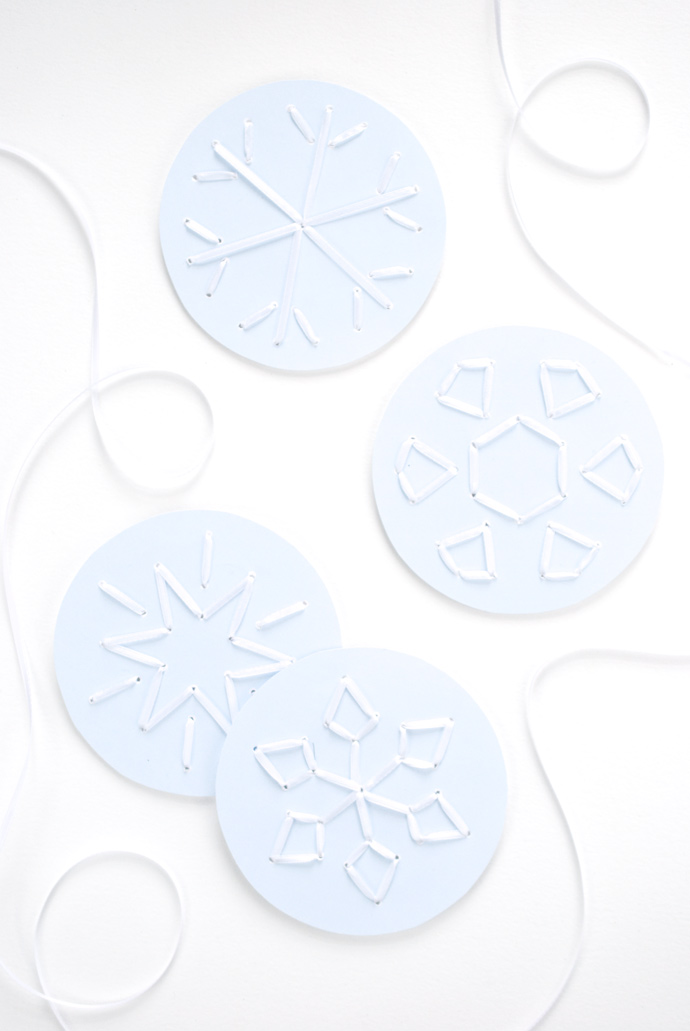 Printable Snowflake Stitching Card
These printable snowflake stitching cards use ribbon or yarn to embroider simple designs that won't melt as you try to stay warm!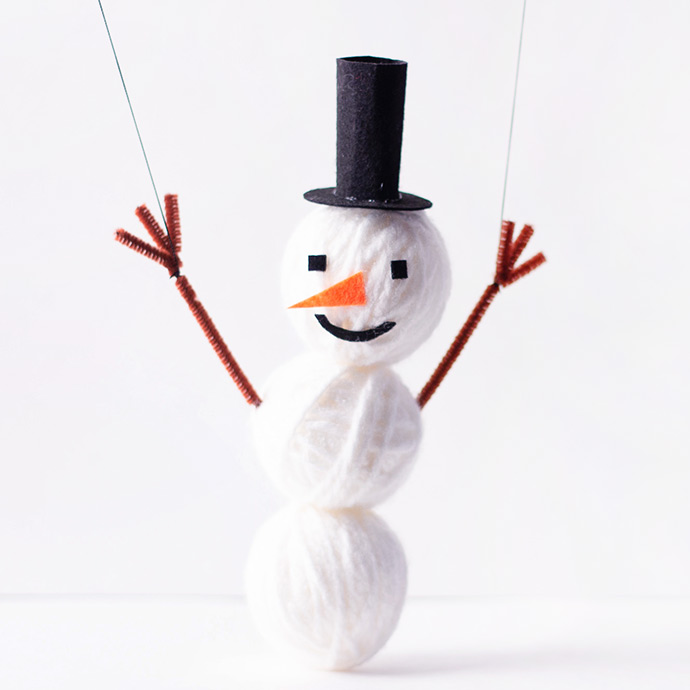 DIY Snowman Puppet
This snowman loves bouncing around, and we're betting he might even like to go on a walk around your neighborhood to get a little fresh air!