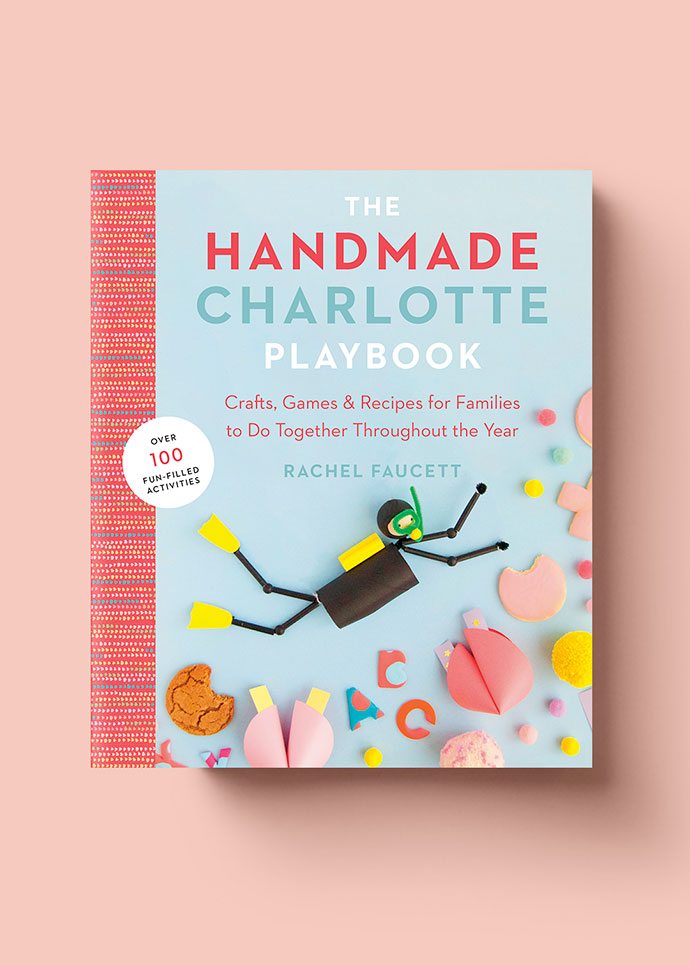 We are thrilled to announce the launch of our very first book – The Handmade Charlotte Playbook! It's been an amazing decade of sharing simple yet extraordinary crafts for your family to create anywhere: at home, at school, or at the park, and we're over the moon to finally be sharing Playbook with you, too! Whether you're a new follower or have been a longtime reader of the blog, we want to thank you so much for your imagination and inspiration over the past decade.
From scrumptious holiday treats and mantle-worthy craft projects to delightful games, The Handmade Charlotte Playbook is a must-have resource for parents seeking great ideas for family together time. Equal parts instruction and inspiration, this book will guide readers of all experience levels to successfully execute and enjoy page after page of the whimsical and imaginative projects including:
Moon in Your Room
Night Sky Flashlight
Paper Bag Puppets
Tie-Dye Tapestries
In a high-speed world where family time is the most precious time of all, The Handmade Charlotte Playbook will be a source of merriment and laughter all year long.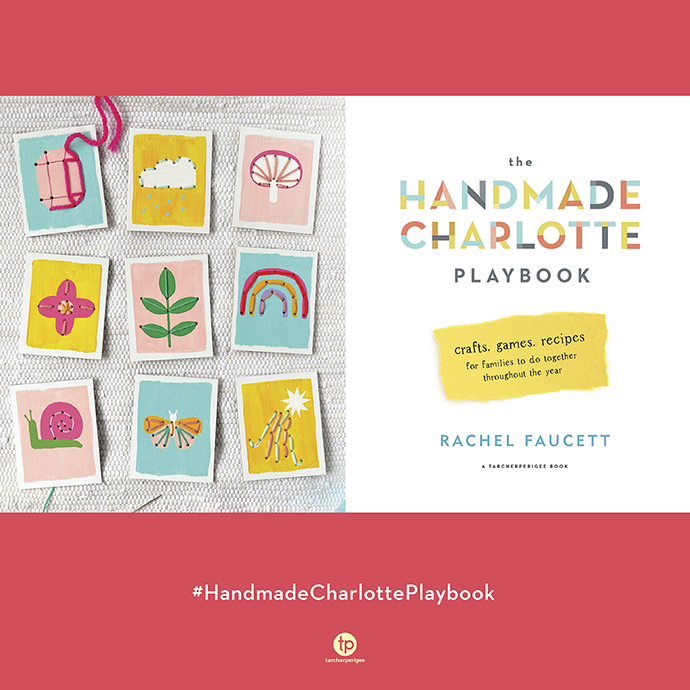 "Rachel is the queen of crafting with kids! I have looked to her for years on ideas and inspiration on how to keep my kids entertained in fun and creative ways. This book is truly a must-have addition to any family's home library." -Joy Cho, Founder of Oh Joy!
"Ever wondered how to foster creativity in your kids? This is it! Rachel's Faucett's collection of projects bring grins and gasps of delight with every page turn. These crafts are true imagination builders, and the perfect way for kids to exercise creative muscles — you can practically see the gears turning in their head as they choose something to work on and figure out what materials they can use or reuse. Rachel is an artistic genius who understands children, and how they relate to art, at a core level. I was hoping for a Handmade Charlotte craft book for ages, and this was beyond my very high expectations." -Gabrielle Blair, Founder of Design Mom and Alt Summit
"Handmade Charlotte has become THE go-to for top quality crafting and activities for kids and their Playbook is no exception. Just like the blog we've all come to know and love, this book leaves me thinking "how did they come up with that?!" over and over again. I cannot wait for it to become the crafting companion for my son!" -Brittany Jepsen, Founder of The House That Lars Built
"Every time I'm around Rachel, her excitement for life makes me want to go out and chase all my wildest dreams. It's no surprise that her book holds the key to not only encouraging childhood curiosity, but sparking creativity in the whole family so you can make memories together, today."-Kelly Mindell, Founder of Studio DIY
"Rachel Faucett is a creative magician who can conjure rainbows and happiness from pasta and pipe cleaners. I'd thought I'd seen it all, but I truly gasped with delight every time I turned the page in her AMAZING book. Kids and grownups will have so much fun creating everything in this encyclopedia of crafty fun!" -Jodi Levine, Founder of Super Make It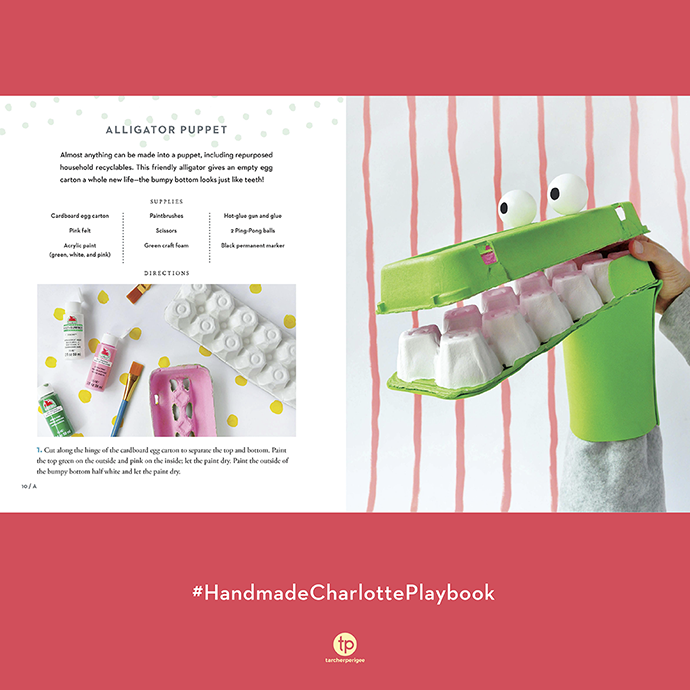 "Handmade Charlotte's Playbook is pure, packaged sunshine. For all of us who struggle to color between the lines, Rachel will have you rediscovering creative instincts you didn't know existed." -Jane Mossbacher Morris, Founder + CEO of TO THE MARKET
"The boundless creativity of Rachel Faucett and Handmade Charlotte is mind-blowing! Her crafts turn the most mundane and overlooked household items into artful treasures. With crafts full of humor, joy, and beauty, kids will be delighted flipping from one page to the next!" -Amanda Kingloff, Founder of PROJECT KID
"If Jim Henson, Martha Stewart, and Weird Al were to morph into one being, it would be Rachel Faucett. The creativity, enthusiasm, style, and irreverence she brings to Handmade Charlotte is inspired and this book is what the world needs now."-Halle Stanford, President of Television at The Jim Henson Company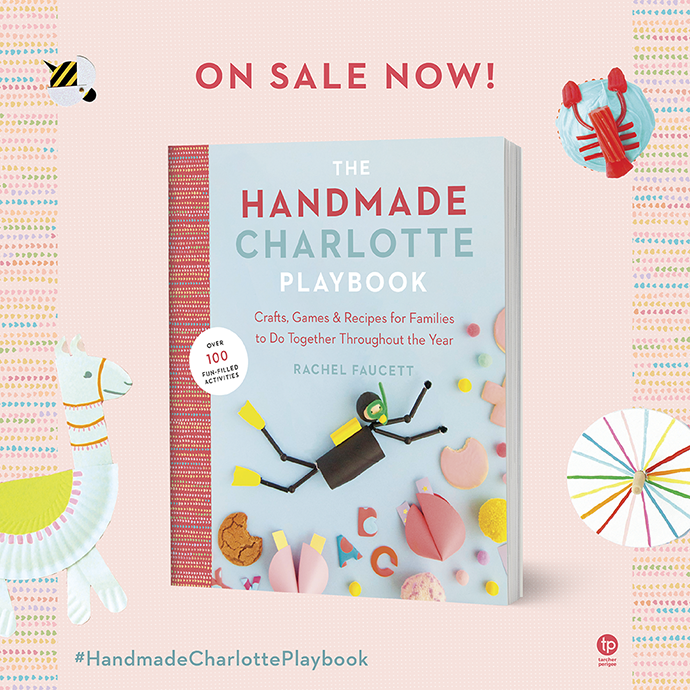 Get your copy of The Handmade Charlotte Playbook today! Available at Amazon, Barnes & Noble, Bookshop, Indiebound, BAM!, Google Play, Apple Books, and wherever books are sold!