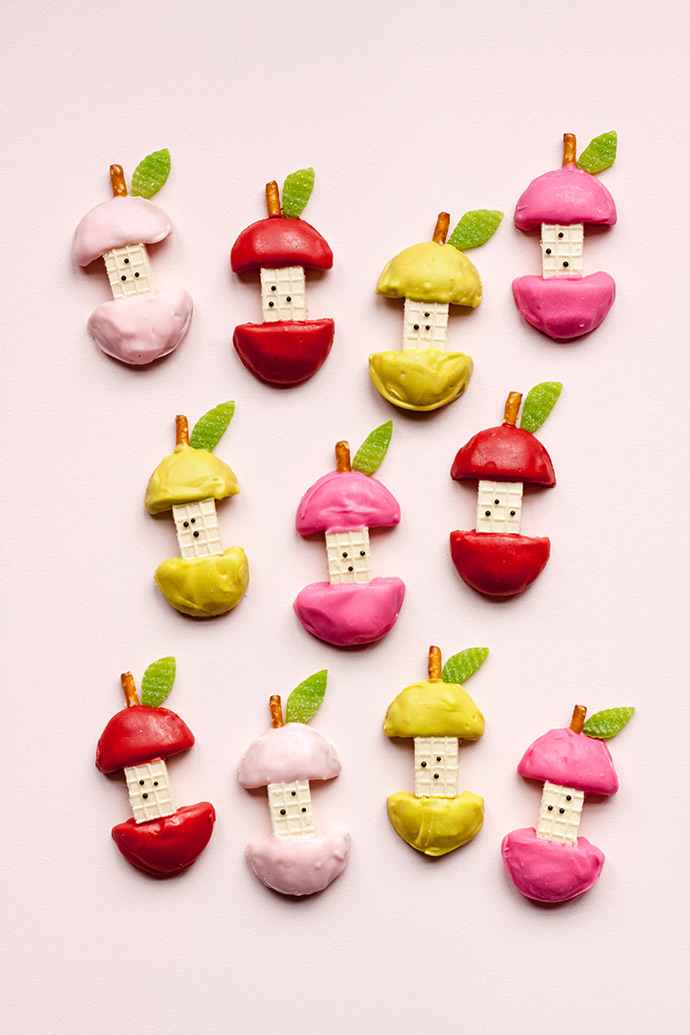 There is something about this year that has us extra excited for every holiday, birthday, season change, and anything else worth celebrating! We noticed that it is getting darker earlier in the evening, and every once in awhile, you get a tiny hint of a fall breeze. It has us looking forward to cozy nights by the fire, pumpkins, hot cider, and apple picking! My son saw me making these apple core treats this morning, and he said, "Wouldn't it be fun to go bobbing for those apples?" …YES! Yes, it would. Bobbing for apples will most definitely be a thing of the past, but these little candy treats are the perfect way to celebrate fall.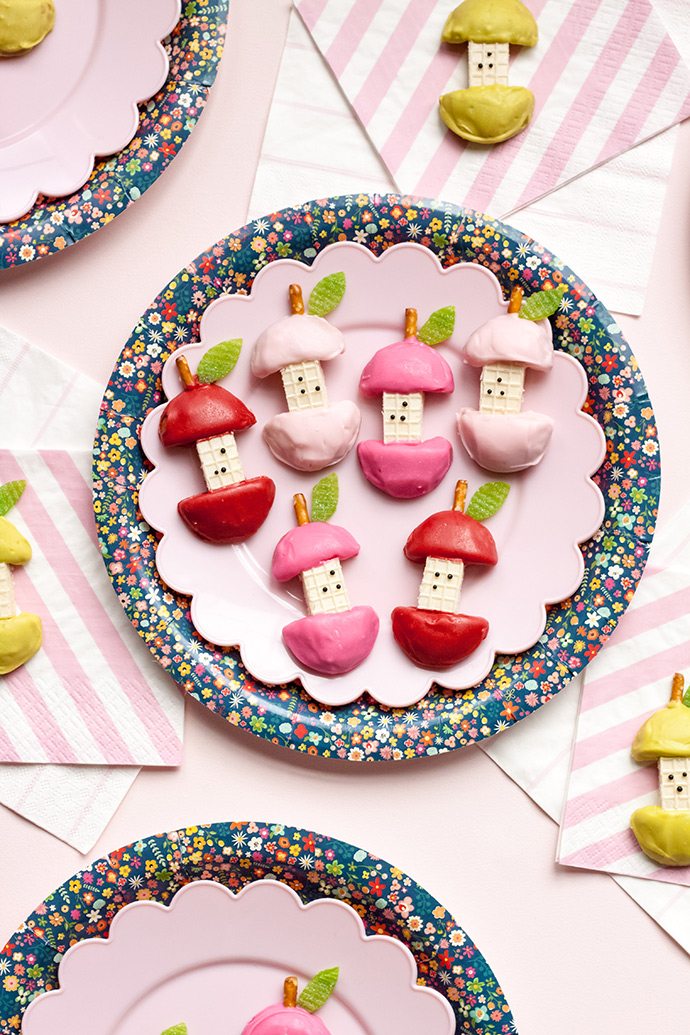 They could be fun for back-to-school too! I mean the next phase of back-to-school …"in-person". Won't that be something to celebrate?! (We are still virtual in our neck of the woods.) These will be perfect for teacher appreciation too! Be sure to get the kids involved, because these are the easiest no-bake treats.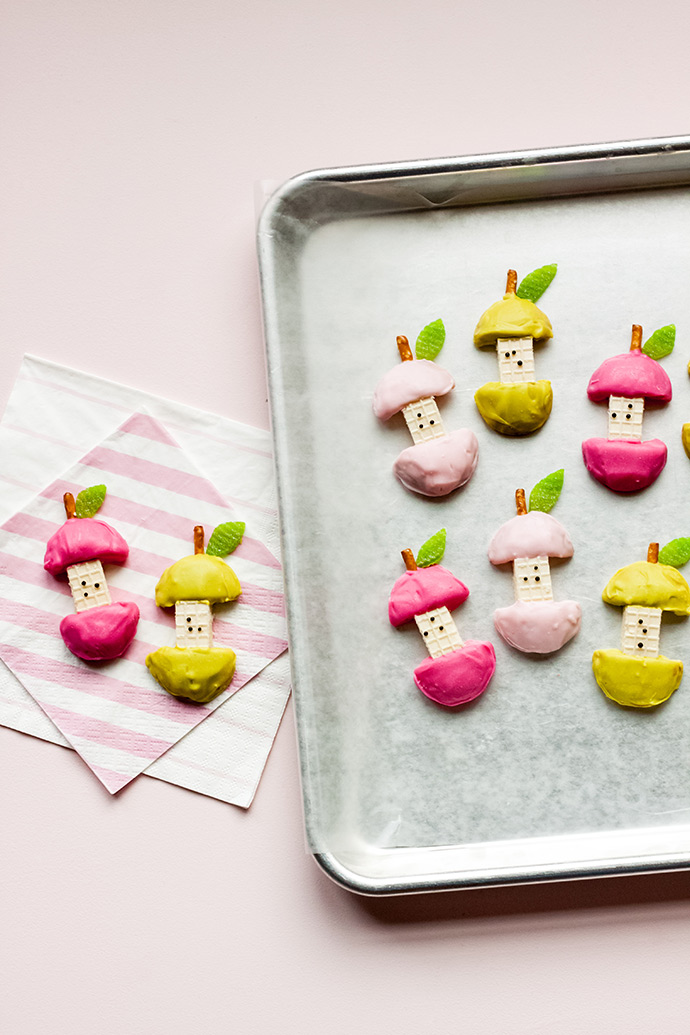 what you need: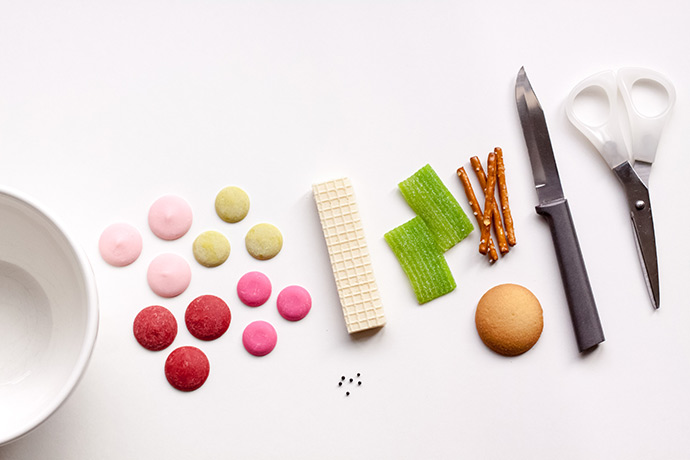 Round vanilla wafer cookies
Vanilla wafer cookies (stick form)
Wilton candy melts
Pretzel rods
Sour belt candy
Black nonpareils (round sprinkles)
Microwave-safe bowl
Spoon
Wax paper
Scissors
Knife
Microwave (not pictured
OPTIONAL – see step 6
Vegetable oil (step 2)
Powdered sugar
Milk
Toothpick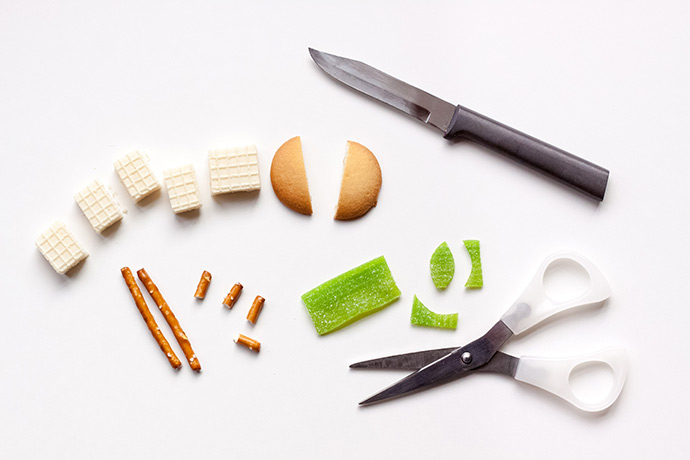 Step 1
First, cut your round vanilla wafer in half. Cut the wafer cookie sticks using the grid to make them about 3 x 4 (or 5) squares. Cut a piece off the ends of each pretzel rod for the stems, and use kitchen scissors (freshly washed!) to cut leaf shapes out of your sour belt candy.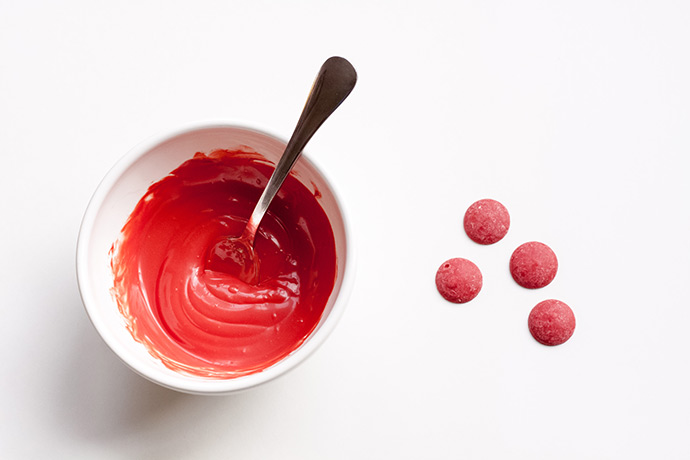 Step 2
Melt your candy melts in a microwave safe bowl, or by following the directions on the package. We started with 30 seconds in the microwave, at half power. Stir in between heating sessions. Do another 30 seconds, and then 15 second increments after that, until the candy is fully melted. Do not overheat, or it will affect the consistency. To make the candy smoother, add a tiny bit of vegetable oil, and stir.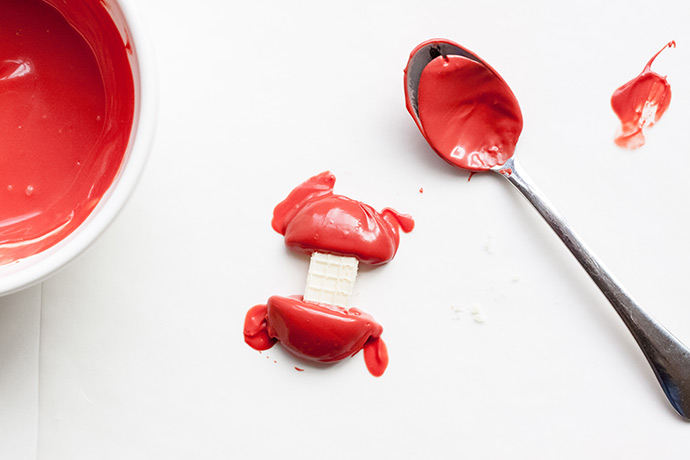 Step 3
Now dip two wafer cookie halves in the candy, and swirl around until they are completely covered. Allow any excess candy to drip off over your bowl, and then sandwich your vanilla wafer between the two halves, using the candy coating to glue the pieces together. Set on wax paper, and smooth out the edges with a finger. Follow the next step immediately, before the candy cools.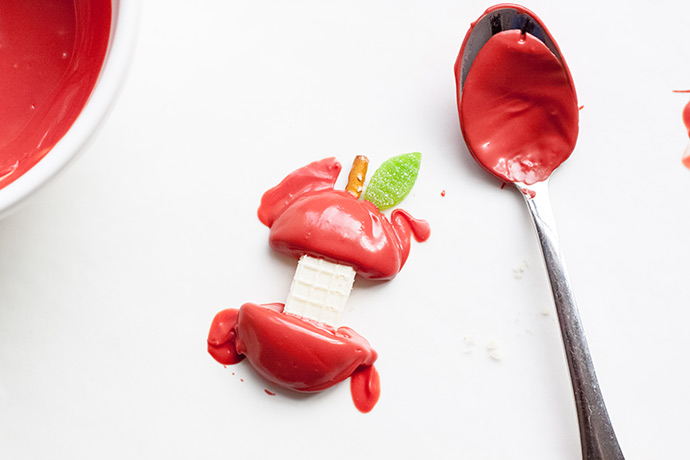 Step 4
Place a pretzel end on the top of the apple core, and place a candy leaf right beside it. The candy will act as glue, so be sure to coat the ends a bit.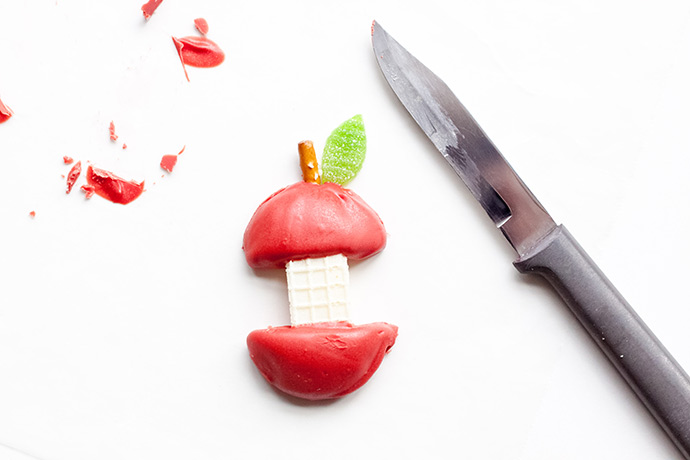 Step 5
Use a knife to cut any excess melted candy from around the cookies. You should be able to lift them up in one piece!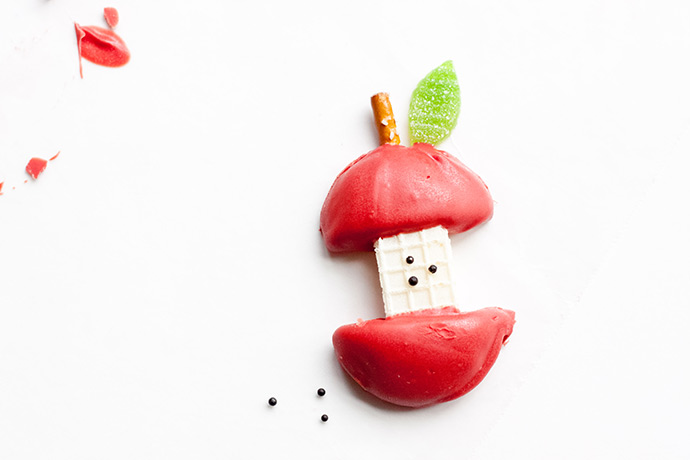 Step 6
Add three black nonpareils to the apple core on each cookie. To be honest, I placed mine in the little grids on the wafer without any frosting, and it works for outdoor entertaining. If you would prefer to "glue" them down, then I would recommend using a mix of powdered sugar and milk to form an edible frosting paste, and apply it to your cookie with a toothpick.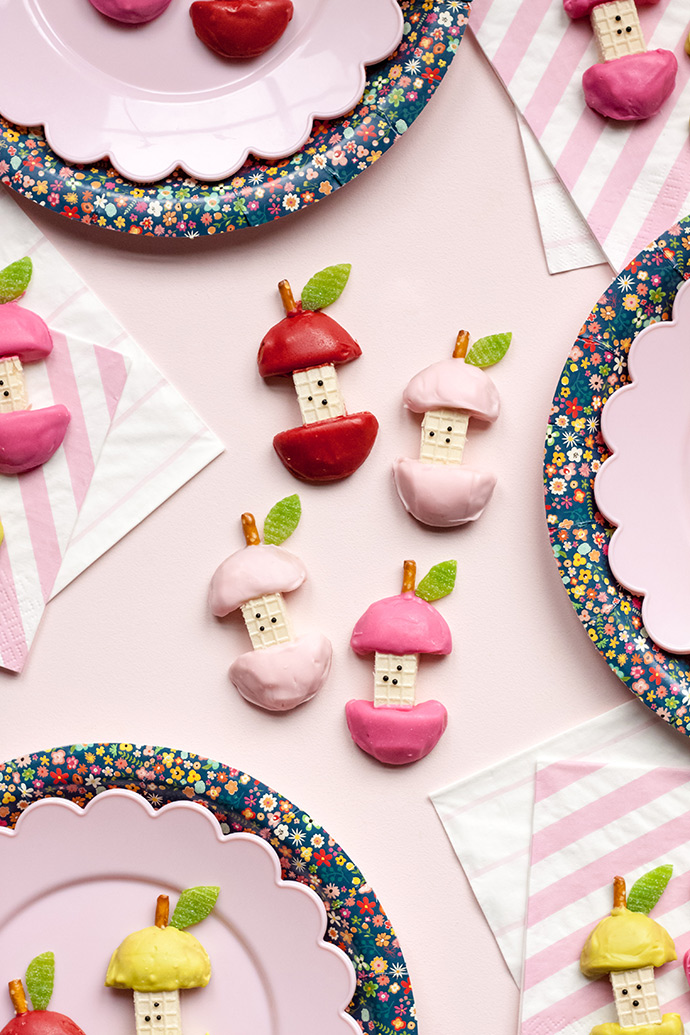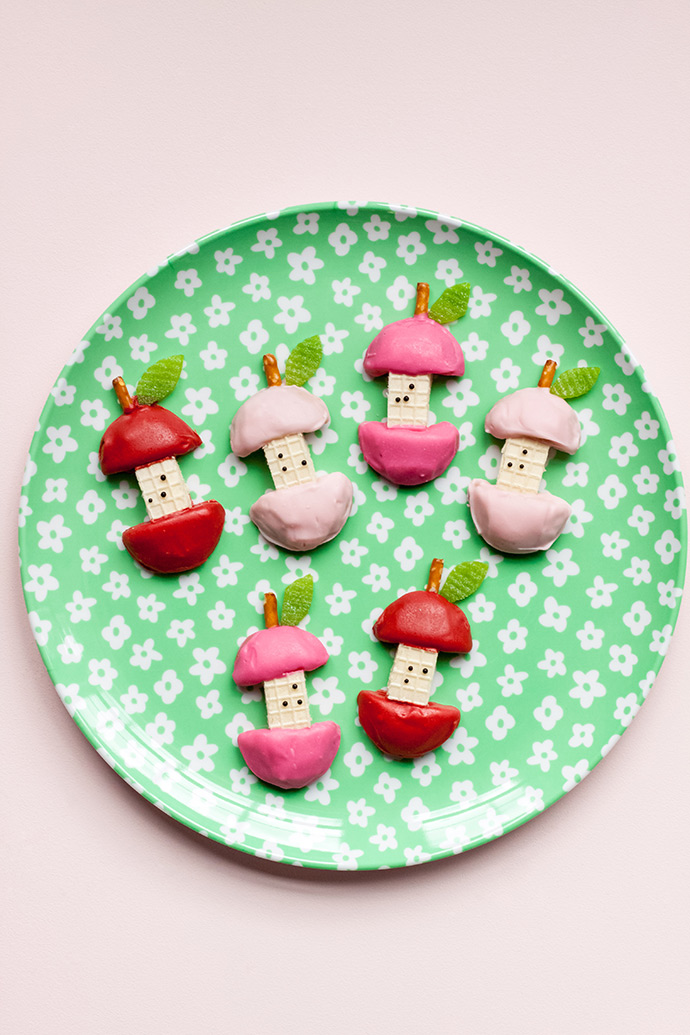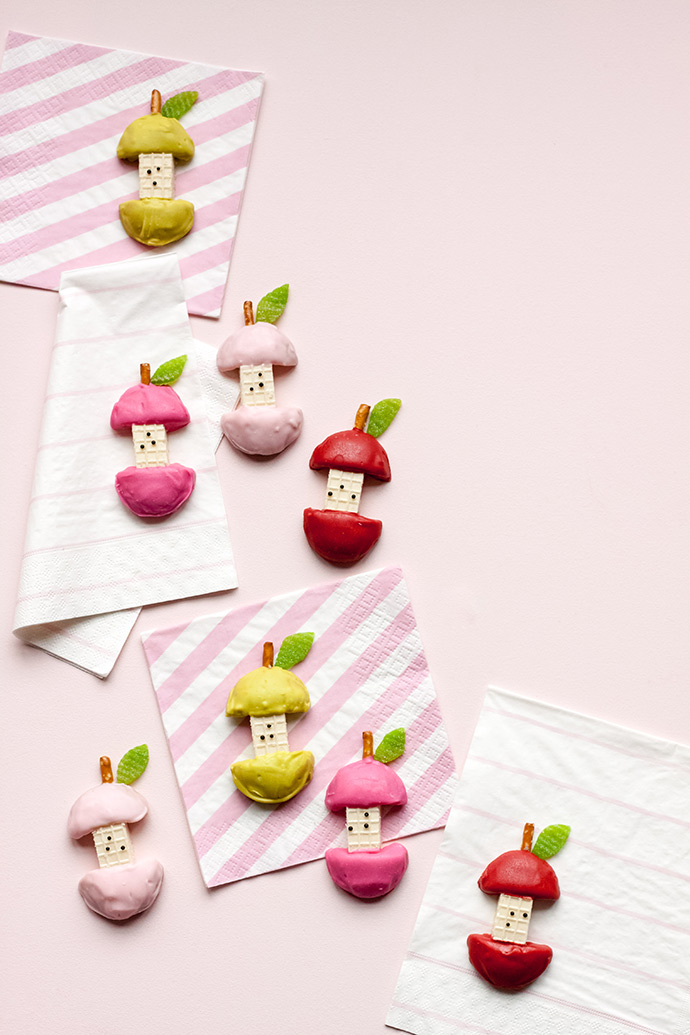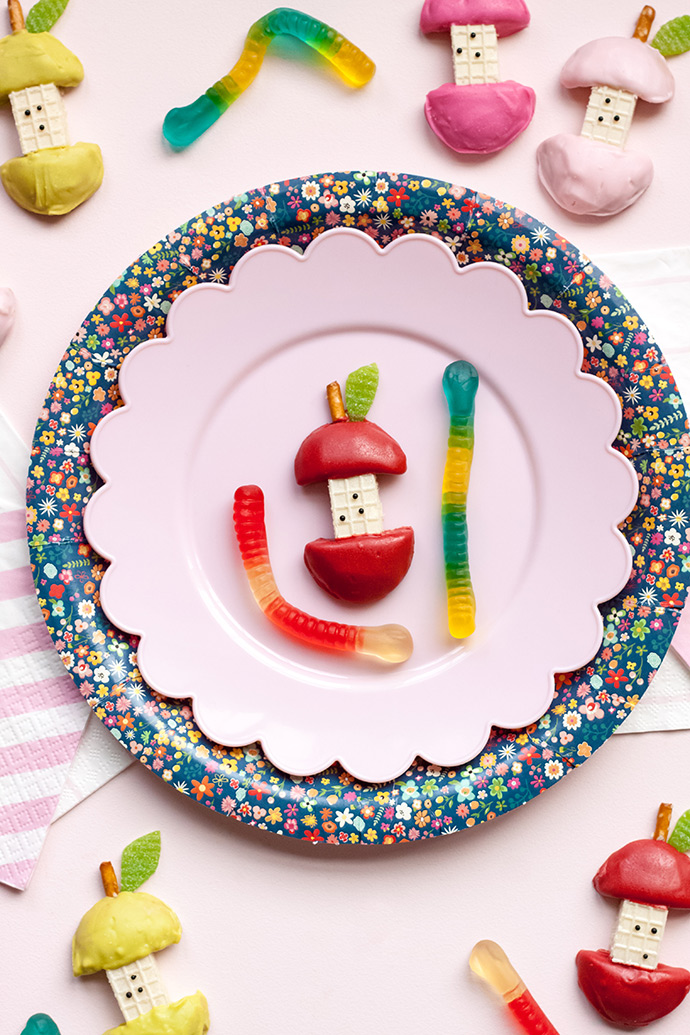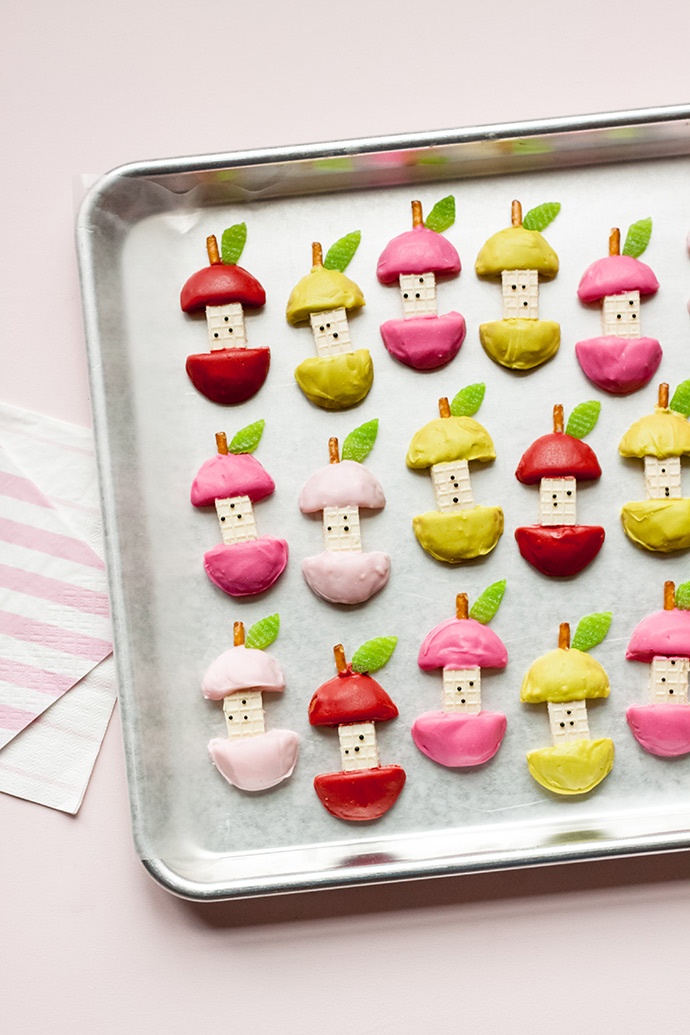 Now you have the cutest apple core treats to share with friends or teachers! Happy fall!